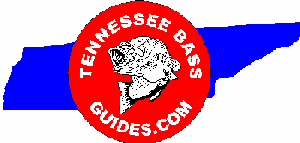 Fishing The Rick McFerrin Signature Swim Jig
Written By Rick McFerrin
Full Time Guide/Owner
Tennessee Bass Guides LLC.
November 2010
ALL SIZES AND COLORS AVAILABLE AT THE LOCATIONS BELOW
murfreesboro Outdoors 2204 North West Broad in Murfreesboro
Lil Joes Outdoors 305 Sparta Street McMinnville Tn
Poindexters Bait Shop Hwy 109 Gallatin Tn.
Barton Spring Gro/Bait Riley Creek Road Lake Normandy
Home Supply Highway 25 Carthage Tn.
Grandpas 1894 Ft. Campbell Blvd,Clarksville Tn.
Broadview Market Highway 50 Winchester Tn.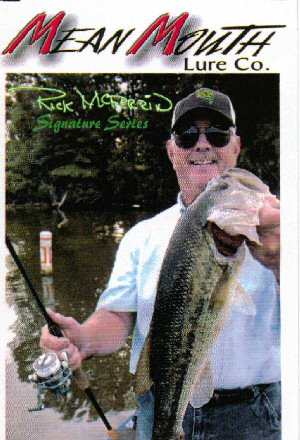 This article is intended to help the Beginning Fisherman better understand the techniques that work best for me on a deep clear lake fishing a "Finesse Swim Jig" for Smallmouth, Largemouth, Spotted Bass. This IS NOT a heavy rod, heavy line article. But rather these techniques incorporate using the Rick McFerrin Signature Swim Jigs weighing 3/16th and 1/4 ounce, 6lb and 8lb test line, long rods and open faced spinning reels. Let me say that this is not the only way to catch bass on a swim jig, but the light jig light line finesse techniques that I will be sharing fits my fishing style perfectly and has proven to be very effective for me. There are several other articles that I have written on various baits to help the Beginner that you can view by going to www.tennesseebassguides.com and clicking on the Tips Archive Tab on the left hand side of the home page.
What is A Rick McFerrin Finesse Swim Jig?
Over 6 months or more ago Tim and Cinnamon Turrentine owners of Tennessee based Mean Mouth Lure Company and I began working on my Signature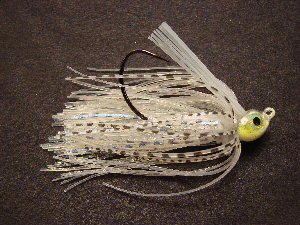 e Swim Jig Series. What attracted me to these two fine folks was their 100% commitment to producing the highest quality lures possible. That makes a difference to me because I have built my reputation on endorsing only top notch products. And I'm certainly not going to put my name on anything that's not of the highest quality. It matters to me and I believe matters to the vast majority of serious bass fishermen as well.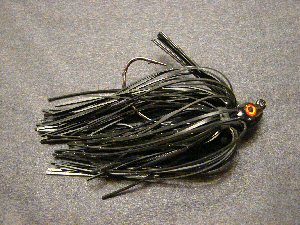 Let's discuss the WHAT IS question first, then we will look at the why-where-when and how of using this swim jig. I think the best place to start is by telling you what my finesse swim jig isn't. These are not specifically designed to be a pitching, flipping or bottom bumping bait. They are designed to imitate baitfish and crawfish using various swimming techniques. Also where most swim jigs range from 1/4oz as the lightest to 1/2 ounce or more as the heaviest. My swim jig starts at 3/16th oz as the lightest and 1/4 oz as the heaviest. I have found through trial and error that with my style of fishing light lines these two smaller weights consistently produce more fish for me on the clear deep lake that I guide on. My jig will also excel on lakes that have a tremendous amount of traffic and pressure. Lakes like Priest or Old Hickory if you live here in middle Tennessee or a high pressured lake in your area.
This is very important, although the weights are different, the head size, line tie and profile of both sizes are exactly the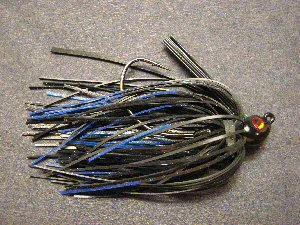 same. We achieved keeping the head sizes the same by combining different alloys to lighten up the 3/16th oz jig. Keeping the same size head, profile and line tie position is very important to me because of the keel like effect that this head creates. These jigs will lift up, run straight and won't veer off from one side to another. It has been my experience that swim jigs have to run straight to be consistently productive and these do just that. I like the way the water moves off of the head, it's subtle but very effective. Many times little things can make a big difference and I believe that this is one of those.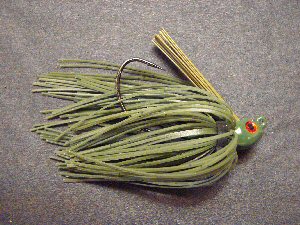 One of my major pet peeves with many jigs is when you use them 1/2 a day and the paint is gone off the head. Or the eyes are missing and your left with a bare lead head. NO JIG is indestructible including mine, but I will tell you this. We have gone to great lengths using a very time consuming, labor intensive process to assure that the finish on these jigs are rock hard and will give you many hours of service.
Another pet peeve is when you get hung up and jerk a couple times the weed guard pulls out of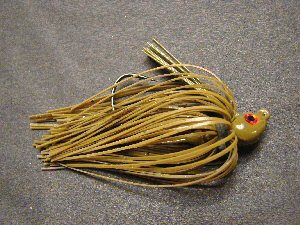 the head. Once again the process and materials that we use reduce the chances of that happening immensely. I can't stress this enough these are not foreign machine produced jigs but rather assembled diligently 1 at a time right here in middle Tennessee to assure strict optimum quality control. When you combine the Rock Hard Finish, the 3-D Eyes, Razor Sharp 28 degree Premium Mustad Hooks, approximately 38 strands Top Quality Color Matched Skirt material that creates a subtle breathing effect and Rattle Bands (when needed) these swim jigs are almost a work of art. It's important for you to know that the way we positioned the 28 degree hook tends to help stick the bass right in the roof of their mouth where you want them stuck.
We are off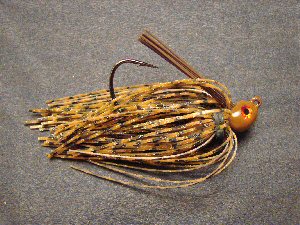 ering 8 of my favorite colors that have work for me on Tim's clear water in both the 3/16th and 1/4 oz sizes. The colors are Brown, Thread Fin-Shiner-Black/Blue-Olive Green-Pumpkin Pepper-Black and Gold Pumpkin. I will give you my personal guarantee that we have taken every precaution to make sure that we put in your hands the absolute best jig that we can produce. Try them and see for your self. Get back with me at rickm@dtccom.net and let me know what you think.
Where-Why-When-How Do I Fish The Rick McFerrin Swim Jig ?
Where is a very easy question to answer. My swim jig can be used anywhere because of the weights and head design. Lakes-ponds-river systems-from a boat or from the bank. I fish them on my home lake around boat docks-low hanging dock walk ways-standing and lay down timber-bridge pillars-pea gravel and chunk rock banks-bluff banks-boat ramps and open water surfacing or suspended fish. They also work well fishing just above submerged grass and vegetation-cypress trees and knees-lily pads-in current, wind or calm water. Your swimming pool-your aquarium-your kitchen sink and ????? Where ever the fish are that's where this jig can be used! It's just a matter of the "right" where and the "right" technique.
Why is another easy question to answer. (1) Most importantly they consistently produce. Folks they work! (2) My jig is designed where you can keep them very small and subtle which can make a tremendous difference in clear water and when the fish are shallow and spooky. There are many times when the vibrating sound of a crank bait or the higher pitched sound of a spinner bait blade turns the fish off. Not so with this little package.
(3) On the other hand with the addition of various size and designed tails you can increase the water turbulence and the over all profile of the bait when the fish are more aggressive. (4) It's extremely versatile, you can retrieve the jig in multiple ways which we will discuss shortly. (5) Because of the light weight the fall rate is much slower than heavier jigs which at times is the difference between success or failure
(6) It's versatility helps you cover a lot of different types of structure and water in a sort amount of time. (7) Because of the design they don't get hung up as much as other baits (8) They make a great back up to a spinner baits especially when the wind dies (9) By using different colors you can imitate various bait fish like shad-or crawfish and bluegill which are all well within a bass diet. Unless the current administration get's involved. Then you will only be able to use them in a health food store with tofu trailers. And the list go's on.
When I don't believe that there is a "SEASON" for our swim jig. I believe that it can work 12 months out of the year. Why do I believe that? We designed these jigs to produce a "reaction strike". For those of you reading this article and fish a clear water lake let me ask you a question. How many times have you come up on a school of bass and you get one or maybe two out of the school on a crank bait, spinner bait or maybe a jerk bait and then they become "spooked"? But you just keep chucking the same bait in the same areas until you have created a froth on the water with no results. Chances are they got spooked from the barrage of incoming missiles that we were throwing. But this swim jig doesn't spooks fish like that because of the subtleness of the light size and line weights.
Now before someone go's off the deep end read the rest of this statement please. Are there times that you can hoist one bass after another over the rails on most any other type of bait? Absolutely I prove that to be true myself year after year. But what's going on when they won't hit these other baits? Or they turned off almost as quickly as they turned on? Over the years I've scratched a bald spot on my head wondering "where did they go?".
On Tim's Ford the deep clear lake where I guide I can tell you this. Unless the bass was in the process of chasing bait over a distance, the where did the go question is fairly easy to answer. They didn't go anywhere. They just ran for the nearest cover closed their mouths and stopped. That's when you give this area a break, fish some where else for a while then come back with our swim jig and maybe pick up another fish or two because they aren't intimidated by it. It swims by, it's small and compact doesn't make any kind of rattling noise and they have to take a shot. Does this strategy work 100% of the time "WHAT?" "WHAT" Nothing works 100% of the time but I have watched this work countless times over a years period, and it will work for you as well. I do struggled with a swim jig in cold muddy water even when I bulk up the size. Other types of jigs made for that condition works much better.
How This is the nuts and bolts of this article. And once again let me say that this is not the only way to catch bass on a swim jig, but the light jig light line finesse techniques the we are getting ready to talk about fits my fishing style perfectly and has proven to be very effective for me. Let me stress this is not a bottom bouncing, flipping, pitching or bottom dragging technique.
I use a 7 foot medium or a 7 foot medium heavy action spinning rod with a 6.2:1 spinning reel loaded with Sufix Pro mix 6lb or 8lb test clear blue mono. www.sufix.com This line in unbelievably strong,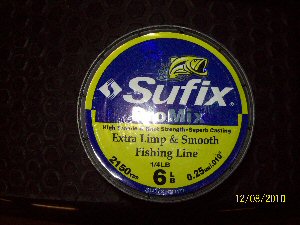 ultra abrasion resistant but yet comes off my spinning real smooth as silk. This is necessary because I make as long of a cast as possible. I'm a line watcher and the clear blue gives me the ability to watch my line for those "little ticks" that my 62 year old eyes miss with fluorocarbon lines. The clear blue seems to have no negative effect on the fish, as a matter of fact it is the exact same line I use with all my Rapala www.rapala.com -Storm www.stormlures.com and Luhr-Jensen Crank baits. www.luhrjensen.com And as I said is easy on the eyes.
Now let's talk about rigging both our 3/16th and 1/4oz jigs. I use a variety of trail

ers that are manufactured by Prowler Pro Pitch Lure Company located in Leitchfield KY. www.prowlerlures.com is their web address and phone number is 1-270-287-9024. Prowler manufactures an extensive line of soft plastic baits that will meet the need of any fisherman. Many tackle shops carry an full line of the Prowler product but should you not have it in your area you can order directly from them. Sorry for the small photo but hopefully this will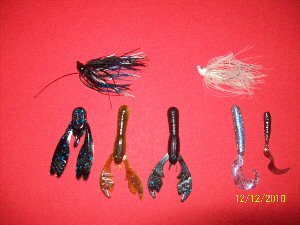 give you a good idea of what I use. Depending on how subtle I want to make the jig I will use either the 4.5 inch Prowler Pro Fat Grub or the smaller Pro Grub . There are times when a little more turbulence (noise) is needed and that's when I opt for the Prowler Pro Craw Chunk or the Prowler Flappin Craw. At times I will also add a rattle to our rattle band. This combination also works well when we have dirtier water in the upper part of the lake or in the backs of creeks after a big rain. Both of these add a little more bulk to the jig and creates a totally different silhouette in the water. There are times when I will shorten the Flappin Craw or switch from the larger Pro Grub to the smaller Pro Grub if I'm getting repeated short strikes.
What about choosing the color of the jig and trailer?
If the bass have been feeding on crawfish there's a couple things to keep in mind here in Tennessee. The TWRA biologists have completed extensive studies on crawfish native to Tennessee. They have found in most of our waters the body colors of crawfish can be brown/black , green, almost a orange red and many times a pale blue purple. So I tend to choose our swim jigs in Brown, Olive Green, Pumpkin Pepper and Golden Pumpkin jig with a Prowler trailer that corresponds to the predominate color of the crawfish in the lake at the time. If shad has been their primary diet I will choose our Shiner or Thread Fin jig with a a Smoke Purple, Smoke Glitter, Minnow Flash, Pearl or Purple Shad Prowler trailer. If Bluegill seems to be what the bass are after especially in the spring I like to throw our Brown with a Smoke Purple Prowler Trailer. Then there is our old reliable Black or Black and Blue swim jig with a June Bug, Smoke Purple or Black and Blue Prowler Trailer that produces on Tim's clear or stained water year around. I always glue my trailers on with superglue which helps to keep the trailer where it needs to be and extends it's life.
What about the retrieve?
Most of the time I keep it coming using a constant retrieve much like you would with a spinner bait within a foot or two of the surface. In the clear water on Tim's the bass can see this bait from a long way off and they will come up out of the deep water just like they do on a swim bait to nail it. Because of water depth I try to parallel the banks on Tim's as much as possible making sure that that I bump into every lay down , flat rock and extended boulder that I can. We have designed the weed guard to be forgiving enough to allow a great hook set but yet doesn't hang up like many other jigs seem to do. Around docks I work all the outside areas, skip under docks and work the back side between the dock and the bank as thoroughly as I can. On bridge pillars I work all corners and parallel both longer sides. Remember this is a reaction strike bait that can give you multiple fish out of a open water suspended school, or multiple fish staged on rounds and off long points. By doing a little experimenting with our 3/16ths and the 1/4oz swim jigs and the size of the trailer it won't be long before you can get a good idea on the speed of retrieve that will work for you.
I know someone is asking the question. DO YOU EVER CHANGE UP THE TYPE OF RETRIEVE? Occasionally I do but it tends to be more of a PAUSE in the retrieve or when the water is extremely hot in the summer I will use a more erratic retrieve using short snaps or twitches with the rod to see if that will produce more strikes. But let me stress again 90% of my time swimming my signature jig I KEEP IT COMING!
To repeat myself over again this is not the only way to fish a swim jig, but it is the way that has proven to work for me over and over. I hope this article will give you some additional information that will help you on your next trip. When you can pick up a Rick McFerrin Signature Swim Jig and try it for your self. Thank you for visiting my site.
Rick McFerrin www.tennesseebassguides.com
---