For the Competitive Angler
Written By: Rick McFerrin
November 2005
Introduction
Recently Tennessee Bass Guides had the honor of teaming up with the Prowler Lure Company which is located in Leitchfield Kentucky due north of Bowling Green. From prior use I knew how good their product was, so I was excited to have them aboard. Prowler is one of the fastest growing soft plastic bait companies in the United States and is owned and operated by the Van Meter family. One of the very first things that impressed me was that Prowler is a fishing lure company that is still operated by tournament fishermen. Mr. Van Meter is an avid tournament bass fisherman and keep a torrid tournament schedule. I really believe this is one of the reasons why Prowler continues to be so successful. Nothing compares to (1) being in the trenches for years and seeing for yourself what works and what doesn't (2) surrounding yourself with a professional fishing staff that assists in new product ideas and design enhancements. Unfortunately in many large bait companies today it's the lure designers and marketing departments (which rarely fish) that determine what go's to market and what doesn't. But not true with Prowler, they only produce baits made by bass fishermen for bass fishermen. With this "on water" approach it enables Mr. Van Meter and the Prowler Pro Team to meet the needs of a ever changing fishing climate. Innovative life like baits that are available in a multitude of colors to meet every water situation. Since the Prowler Lure Company produces such a extensive line of plastic baits it would be difficult for me to cover all of them in one article. So, to do justice to these fine baits and to give you the reader a better understanding of each, there will be a series of articles that hopefully will be of great value you. The Tennessee Bass Guides Team members have personally tested these baits and I can tell you that each guide has been very impressed with the results. My policy hasn't changed "We only promote items that we use on a regular basis-that works for us" by doing so you get an honest straight forward assessment.
Prowler Chunks

Looking over

the reports for the past several months our guide team members have been catching largemouth and smallmouth bass on several different Tennessee lakes and rivers pitching and flipping a variety of jigs. For those of you that are "Jig Fanatics" you know that many times the "Jig/Chunk Size" and bulk in the water can make all the difference in the world on catching or not catching fish. I guess in some respects a bass is allot like us...sometimes we want a "Big Meal" and sometimes we want a "Small Meal" When throwing small jigs and hair fly's that are 1/16th to 3/32nds in weight, on 4lb and 6lb test I like to use a small chunk. This is where the Prowler Eel and Prowler Small Pro Chunks come on strong for me. I have found that when the bite has been very tough the Prowler Eel is the chunk I turn to. I'm not sure if it's, for lack of better words the "Slenderness" of the bait or the longer configuration of it's tail that makes a difference. It make very well be that it just doesn't move as much water upon entry. But what ever the case this is one great multi-use trailer. Combined with the right size jig it just becomes a snack for a Smallmouth. The Eel also works extremely well on spinner baits as a trailer and inserting into tubes. Both sizes of the Prowler Ell comes in 18 different colors to meet any need.

Then there are times that the Prowler Small Pro Chunk is what I turn to. I like using this size chunk on 6

and 8lb test and a 1/8th and 3/16th ounce jig. I like this size because it adds a little bulk to the jig and the wider tail seems to move more water. This jig and chunk combo is a in between size for me that I like to use in lay downs and in rivers when there is moderate current. There is enough weight not to get swept away but still light enough to have a slower fall. On jigs 1/4 ounce and up I like the Prowler Medium (picture to the left) and Jumbo Chunks. These add a little more water displacement and weight. The tails of these chunks are very flexible and have a fantastic action. All three sizes of these Prowler Chunks are available in 20 different colors many of which are unavailable on any other manufactures plastic baits.


Another valuable tool in the Prowler treasure chest is the Pro Craw and the Jr. Pro Craw Chunk. Both of these Pro Craws are Salt and Garlic Injected. The "NEW" patent pending design of the Pro Craw gives a realistic appearance to any jig or spinner bait. Take time to check these baits out in clear shallow water, you will see what I mean. The pinchers create a almost natural defense stance that just begs a big fish to take a bite. Once again just as a personal choice I like to use the Jr. Pro Craw Chunk on 1/8th and 3/16th ounce jigs and the larger Pro Craw Chunk on larger jigs. Experiment, other size and jig weight combos may work better for you. These baits are also fantastic spinner bait trailers and are you have a great selection of 30 colors to choose from.

Prowler Tubes

What a selection for you to choose from. Prowler manufactures 7 different Tubes in multiple lengths and sizes. All Prowler Tubes are a soft double dipped tube with long tentacles that deliver incredible action. These are truly some of the hottest baits in the industry today. From the Super Tube-Big Butt Tube-Stubby Tube-Pro Super Tube-Pro Flipping Tube-Finesse Tube to the Crappie Tubes Prowler has it covered with the highest quality fish catching baits available any where. Some one might ask "Why so many choices of size and colors of the same type bait"? Well lets see how I can answer this. (1) Bass have varying degrees of taste when it comes to eating. There are times their pray may be small like crayfish and small bait fish. Other times the may be feeding on larger bluegill-shad and other larger available bait. (2) Water clarity also plays a big part in making your lure choice. In stained to muddy water I like a larger bait like the Prowler Super Tube or Big Butt Tube that creates more water movement which helps the bass zero in on the bait. In clearer water I like to go to the Prowler Finesse and Stubby Tube which has a more subtle movement. (3) Water clarity many times will help you make color choices. Normally in darker water I try to stay with darker colors like Black-Dark Reds and Deep Purples. In clearer water I like watermelon, smoke pepper, pearls and pumpkin . But sometimes there are glaring exceptions to this scenario. I fish a clear deep lake near my home for Smallmouth. June bug always seems to be my best go to color which defies some of my earlier thoughts. This is where you need to experiment to find out what works best for you. Through years of fishing experience Mr. Van Meter realized the necessity of making multiple sizes (7) and colors (26) available because of the very reasons we just talked about.
Prowler Grubs


Prowler manufactures 5 grubs for you to choose from. The 4.5 inch Pro Fat Grub-3.5 inch Pro Grub and the Pro Crappie Grub. All have extra wide tails that vibrates immediately when you begin your retrieve. These baits come in 14 different colors. There are times just like yesterday when the wind was up to 20mph and the Smallmouth were on the windiest points that a Prowler Grub is hard to beat. You can rig the Pro Fat Grub on a 1/4 ounce jig head and cast extremely well into the wind. The action of the bait begins immediately and many time smallmouth will hammer the grub on the fall. There are also times when a smaller grub and jig head is needed. Those times when the bass are a little more finicky. That's when I turn to the 3.5 inch Pro Grub. Both sizes are great baits and with 14 colors to choose from you just can't go wrong.


The New C Leggs is a innovative bait that combines twin tails with a flat belly that helps slow the baits fall. The legs of the bait is just a tad thicker which keeps the tails from sticking together. The C-Leggs can be fished alone as a grub. On a jig as a trailer and effectively as a drop shot bait. You will have to see the action of these baits to believe it. Once again being a light line guy I really like the C-Leggs Minus on a 1/16th ounce jig head. This little tid-bit is just a snack for those big brown fish. Two sizes and 26 colors to choose from....This ones a real winner, you need to check them out.
Conclusion
This time around we covered Prowler Chunks-Tubes and Grubs and we didn't get half way through the great selection of soft plastic baits that Prowler manufactures. There will be at least 2 more follow up articles to cover the remaining items. You have many choices when you stand in front of soft plastic sections in your favorite tackle store. Some brands are price driven, some brands are name recognition driven, some brands are quality driven and others are just driven. The next time you need a soft plastic bait give Prowler a try-you won't regret it. As a matter of fact if you buy one item you will buy more they are just that good. Check them out on our web site at www.tennesseebassguides.com scan down to the bottom of the first page and click on the Prowler logo....If you have any questions just send them to me I will be happy to help rickm@dtccom.net Thanks for reading Rick McFerrin Tennessee Bass Guides.com
---
Product Review
J.J.'s Magic
Dippin Dye With Garlic
April 2005
Written By: Rick McFerrin
Introduction
Fish attractants have been around for a long time. Attractants have been manufactured in sprays, liquids, creams, pastes, and gels in a variety of scents and colors. Some work and truthfully some don't. The retail price really doesn't seem to be a valid indication of how good the product will be, so unless you have a good reliable source of information or recommendation from someone buying scents and dyes are a roll of the dice at best. If you are like me all you have to do is look at the baits and equipment you never caught fish on to prove my point. Fess Up! Several hundred dollars worth right?
So in my old age I have become (Rena my wife says cranky) but more to the point very very selective in what I buy and more importantly what I endorse. If you were sitting here in my office with me tonight you would see several boxes of baits-tackle and accessories that companies have sent to me asking for an endorsement on our site. If you click on the Product Archive Tab you will find all the products that I have written reviews on. You will also find that each has earned a positive endorsement. Why? Because they work like they are suppose to. They are good products that I as a full time guide and owner of Tennessee Bass Guides Inc. personally use on a regular basis and find reliable.
You see, if I try something and it doesn't work I simply just won't write a review. I guess it go's back to how I was raised. You know "If you can't say something good, just don't say anything at all." So any product review you read on my site will be about products that most definitely works for me and my team of guides. As a matter of fact just this week on four guide trips my clients and I caught a combination of 84 Smallmouth-Largemouth and Spotted Bass on 4 inch plastic worms I soaked with this product. We will talk more about this in the paragraphs below. You can see pictures of the fish on my site. JJ Polak and Alan Summer have formulated a fantastic product that has ALREADY helped me catch more fish and it will do the same for you if you will use it correctly.
Company History
Alan Summer invented a dye for soft plastic baits back in the early 1980's. Alan having a start up business marketed his dye locally and this is
when he met JJ Polak. Alan told JJ about the product and urged him to try it. JJ put the product to a rigorous test on the water and determined that if Alan would add garlic oil to the dye it would enhance the product greatly as a fish attractant. The result was a new formula that would allow the dye to penetrate into soft plastic baits. Let me emphasize this again, it penetrates into the plastic and the scent will remain in the bait. When Alan and JJ tested this new formula they found that their bites increased and that the fish held onto the bait longer. They had other tournament anglers test it as well and the rest is now history. Alan-JJ and JJ's two sons Andy and Marty formed a company that is now known as Fish Chemicals and market the product known as J.J.'s Magic.
What Does The Product Do?
First of all J.J.'s Magic is a dippin dye solution that is designed to let you customize your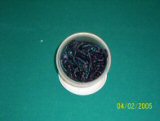 soft plastic baits which is a great benefit. BUT.....To me the greatest benefit is that it penetrates the bait and the scent won't wear off. Every since JJ sent me this product I have put it to the test. One of the lakes that I guide here in middle Tennessee is Tim's Ford which is located between Nashville and Chattanooga. Tim's is known for it's Smallmouth population but also has an abundance of Largemouth and Spotted Bass as well. I had been on a fairly good bite on a small 4 inch worm fished on a jig head. Many times the bite was very subtle and I found that some of my clients would have trouble "Feeling" the hit. Well, when JJ sent me his product to test, my attention was drawn immediately to the Clear Garlic scent, and let me explain why. The bass like the little Junebug colored worm that I have been using so I certainly didn't want to alter the color...BUT.....I sure wanted to add the garlic scent to the worm hoping to get the fish to hold on just a little longer. So I dumped 50 or more 4 inch worms in one of Rena's Tupperware bowls (I hope she doesn't miss it) and being advised by JJ in advance of how strong the garlic scent was I carefully poured some onto the worms. I was like a little kid waiting until the next day to see what would happen on my new JJ's Magic scented worms....What was the results? I can sum it up in one 3 letter word..........WOW! The results speak for themselves. I can't and won't tell you that I have realized X % of increased bites using this product....but I can tell you this. I have watched my clients hook ups increase dramatically and watched them put more fish in the boat using the same 4 inch worms soaked in J.J.'s Magic than they did before. Folks, when the bass grabs this worm soaked in this product they just won't hardly let go. That's the key-that is the BIG DIFFERENCE-that the additional edge between J.J.'s Magic and other dye type products that I have used in the past. So for a guide-tournament fisherman or just a casual week end bass fisherman it can make a BIG difference on the number of bass you will put in the boat.

As I started to say in the paragraph above J.J.'s Magic is currently packaged in 4 colors. Blue-Methylate, Chartreuse and Clear. All, except the clear scent is designed to let you customize your baits But unlike some of the more well known dyes on the market today this product will penetrate your baits and the scent will remain there cast after cast. No additional dipping is needed. I can see where the Chartreuse will be the most versatile, but each will play an important part of my fishing throughout the year when faced with various water colors and conditions. I have also found by doing a double dipping experiment that you can create various degrees of green-orange and purple. I like to add red many times when throwing a soft plastic jerk type bait-the Methylate is going to be dynamite for that no doubt! I'm sure you have different color combinations that work well for you....now just think of what would happen if the bass would hold onto your bait and not want to let go. Like I said Wow! Bass truly love this stuff!
Conclusion
I guess I haven't been this excited about a new product and all the possibilities that it affords in a long time. Being a full time guide and owner of a guide service I'm always looking for ways to help my clients

catch more fish when there are with us. I really believe that J.J.'s Magic will play a big part in doing just that this year. I'm sure by now your saying, Rick where can I get some of this stuff? As with all new companies getting product out into the market is a tough situation at best. So the Fish Chemical team decided to aim their initial campaign via the internet. The best way to get this fantastic product is by going to our links page and simply clicking on the J.J.'s Magic logo or ordering over the internet at www.jjsmagic.com . The process is very quick and easy to follow and you have your choice of shipping options.
As I said in the beginning of this review. If I didn't believe in this product and have seen it work time and time again with my own eyes I wouldn't give it my endorsement. But friends J.J.'s Magic is a winner. Try it yourself and you will see why I'm excited about this product.
---
Product Review
The Buckeye Shad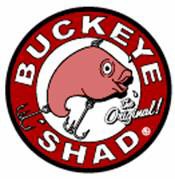 March 2005
Written By: Rick McFerrin
Introduction
It's a well known fact that professional bass fishermen have a tendency to keep secrets when it comes to lures, presentations and just about anything that's working for them. As a matter of fact sometimes the secret can be kept for long periods of time. But, it seems like every year you will read articles that have titles like, "XYZ The Lure The Pro's Tried To Keep Secret" or " The Technique The Pro's Didn't Want You To Know About" or "My Close Encounter With Alien Bass Fishermen". Well maybe the last one went a little far...I just got carried away.
You see, keeping secrets when it comes to bass fishing doesn't just stop with the pro's. I live and guide full time in middle Tennessee. I have the privilege of being around some of the best bass fishermen that I have ever known. Fishermen that have a tendency of keeping everything "Close To The Vest" even with friends. Some of these fishermen have mastered deep clear lakes like Dale Hollow, Center Hill, Tim's Ford and others. Many have concentrated on river lakes like Old Hickory, Kentucky Lake, Wheeler and Pickwick. And through the years there has been a lure that has remained a regional secret with many of these great fishermen. A lure that works in clear or stained water. A lure that works deep or shallow. A lure that works in rock-grass and wood equally as well. A lure that works in all 4 seasons of the year and that lure is the Buckeye Shad.
When you mention the Buckeye to serious bass fishermen in towns here in Tennessee like "Smithville" " Sparta" "Cookeville" "McMinnville" "Tullahoma" and other you can see their eyes light up, and most will proudly tell you they still have Buckeyes that are years and years old that they just can't bring themselves to use. I think the Buckeye is even listed in some of the Last Will And Testaments of many of these men just like UT Football season tickets. To my wife I leave my house-car and bank account...BUT....to my son I leave my tuck-boat and my Buckeye Shads.
Folks, you may think I'm going a little to far, but I tell you it is hard to tell how many huge Smallmouth-Largemouth and Spots have fallen victim to this deadly little bait. For more than 50 years now the dream of Robert Richardson and his family has been living up to it's "Legendary" reputation. And for 50 years it has been a fairly well kept southern secret.
What Is A Buckeye Shad?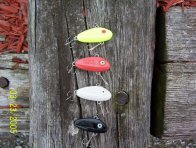 What makes the Buckeye Shad a very unique lipless crank bait? It's 1 1/2 inches long, casts like a bullet and will sink like a rock. The nose of the bait is more rounded than pointed and the tail is rounded and tapered all at the same time. The mid portion of the body is wider in it's belly and narrows toward the top. Most lipless crank baits have a tight wiggle-BUT-one big difference with the Buckeye Shad is that it has a VERY TIGHT wiggle and will tack straight as an arrow on every cast and rarely will turn up on it's side and loose track. This true tracking is achieved by the precise positioning of the line tie, which is located just at the crest of the nose where it begins to slope. The Buckeye has two sets of treble hooks-one positioned on the bottom of the bait almost directly below the line tie and the other in the tail section. The bait is topped off with either a Red-Silver or Gold reflective eyes that is recessed into it's head that gives off a prism like effect in clearer water.
What Colors Are Available?
I like to call the Buckeye a "Blue Collar Bait". Not much glitz and glitter-just "Solid And Steadfast". These baits are currently manufactured in the four no-nonsense colors that you see in the picture above. Chartreuse-Blood Red- White and Black. Do you ever get tired of throwing a lipless crank bait a few times and the color begins to come off? This won't happen with the Buckeye Shad! The Buckeyes color is molded into the bait so no matter how much beating and banging it gets the color will always remain the same. No sparkle-No translucent paint-No flaking-No loss of color-just one steady rugged bass catching tool.
When Do You Fish The Buckeye Shad?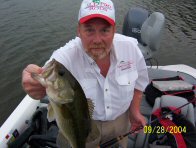 There is no doubt that the Buckeye Shad gained it's original fame in the cold winter months here in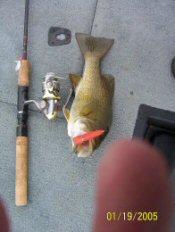 Tennessee. In low water conditions when the wind and snow is blowing almost side ways hardy souls armed with light line-small hair jigs and Buckeye Shads would (and still do) consistently load the boat with big brown fish. But there is more to the story! This is not just a winter bait! Let me stress this point again. This is not just a winter bait! The Buckeye is a fantastic ALL YEAR CRANK BAIT. The Buckeye works in all types of structure. Timber or rock, anytime anyplace all seasons. Anytime you would think about throwing a lipless crank bait the Buckeye Shad will produce hands down.
For those of you that might not be familiar with Old Hickory Lake here in middle Tennessee. It's a TVA river lake that stretches from the cities of Cathage all the way to the city of Old Hickory just east of Nashville. In-between you can find every type of structure and conditions that bass love. River current-protected bays and flats. Ledges-drops-rock-timber-grass-boat docks-bluffs-islands-boat ramps-bridges-rip rap and more. During the HOTTEST months of the summer many big largemouth will stay in water so shallow that you wonder why you can't see their fins sticking out of the water. During these times the bass will slam a Buckeye worked correctly around wood and grass in these shallow areas. It's also fantastic for schooling bass that we find on a regular basis in protected bays. Take a look at the dates on the 3 fish pictures October-September and January..... I could add pictures from every month.....Like I said.....It's a All Year Bait!
How Do You Fish A Buckeye Shad?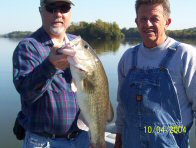 The best way to fish a Buckeye is to do so fearlessly! I toss this bait in and around every type of structure that I possibly can. I keep in contact with the structure as much as possible. This rugged little bait is designed to slam off underwater rock and wood. It is designed to be ripped through grass and weeds. It's designed to be cranked through and bounced off of everything that you can. Some of the most violent strikes will take place when you use this bait in heavy cover.
There are times when you can't retrieve this bait fast enough. Then there are times that a slow steady grinding retrieve will produce more strikes. I keep changing up until the bass tell me what they want. Choices of rods/reels and line sizes varies by the structure and water color your fishing. But 90% of the time I opt for a spinning rod and no more than 10 pond test line. Remember I stressed Fearless!
Conclusion
The Buckeye Shad has a big winter reputation but it is truly a bait for all seasons. I know there is a lot of hype when it comes to fishing lures-but take it from someone that shoots straight and makes his living on the water. The Buckeye Shad...A one time middle and upper east Tennessee secret----is a secret no more. If you buy one and fish it...you will be as hooked on the Buckeye as a 5 pound Smallmouth. For more information go to our links page or www.buckeyeshad.com Let me know how you do with this fantastic little bait. Rick McFerrin Owner Tennessee Bass Guides. Com
---
Product Review

Written By: Rick McFerrin Tennessee Bass Guides .com
May 2004
Company History
The Luhr-Jensen Company was created in 1932 by Mr. Luhr Jensen Sr. which produced spinnerbaits out of a backyard chicken coop in Hood River Oregon. Currently the company produces a variety of artificial baits and has a 60,000 square foot distribution center in Hood River and employ's more than 250 people. In this review we will discuss one of these products the "Speed Trap".
Opening Thoughts
Being a full time bass guide here in Tennessee I make my living on the water. If I don't produce, if I don't catch fish eventually there will be no income-no guide service. There are many elements that go into making sure that your clients have the opportunity to catch good quality fish. Most importantly you have to know where the fish are. But after that, you have to know what will trigger them into striking, you have to know what the fish want. What type of lure-what type of action-what depth-what color will produce the best for your clients that day. Any long term guide will tell you that this information only comes by spending hundreds of hours on the water learning.
In a recent monthly article that I wrote on "CrankBait Fishing For The Beginner" (see Tip's Archive Tab www.tennesseebassguides.com) I confessed that I have been a "CrankBait Junkie" from a very early age. There is something about putting the right cranbait on the right rod with the right line and making the right presentation and feeling the bass slam the bait that still gives me a rush. Much was the case on April 21-2004 when I met Jeff Glowacki at Old Hickory Lake here in the Nashville area. Jeff is the area representative for the Luhr-Jensen Bait Company and we had agreed to meet and perform a product review on the new Luhr-Jensen "Speed Trap" crankbait. Prior to our meeting I had fished the Speed Trap only briefly, so I was able to go into this day of fishing with a completely open mind and with no predetermined opinions.
Beginning The Review
First order of business for Jeff and I was to take a look at the variety of lures that Jeff brought with him. We separated these baits (Speed Traps-Radars-Hot Lips) by running depth and color. I then showed Jeff different crankbaits that I had been using to catch fish and the colors that seemed to be working best at that time. Most of the good fish that I had been catching were in very shallow water (2ft-3ft) so that helped us our depth selection. Next was color. Naturally all crankbait manufactures have their own version of particular colors, but we were able to match up a Speed Trap with a shad pattern that had been producing for me. With our Speed Traps tied on we proceeded to the creeks in search of some big largemouth.
Shallow Water Example
One of the first things I noticed when I began using the Speed Trap was it's ability to run true or stay straight even when you are "Burning" the bait. This is not always true with some other crankbaits that I have used in the past. Many other baits can be "Over Reeled" and they tend to loose their track. This isn't the case with the Speed Trap. The body action and vibration remained true even at these higher speeds. Many times these big fish even when they are in super shallow water on Old Hickory want a bait that is moving Fast-Very Fast! Up until now I could only achieve this by using a lipless rattling bait. Another great feature of the Speed Trap is that they float.
This feature will pay off in big dividends on lakes where the bass hold in the 3 feet of water or less. The 4 fish that Jeff is holding (we caught over 40) were all caught in the 1 1/2ft to 3ft depth range. We would cast the 1/16oz Speed Trap up into a foot of water then ease it out slightly over the weed growth then burn it back. The buoyancy of the bait allowed us the fish the entire length of the strike zone correctly. It is very difficult to achieve this with a conventional lipless crankbait because of their body weight and lack of buoyancy.
Mid Depth Example
The pictures in this section is of a different fishing trip 5 days later on the same lake. We were in a different creek and fishing different structure. These fish (and 18 more) were caught on the 1/8oz Speed trap fishing the sloping side of a long creek point. These fish were holding in approximately 5 feet of water. The young man in the picture is Austin Qualkinbush. Austin's mom gave him a full day guided trip as his birthday present.
Austin is holding a 7lb lagemouth in the first picture which is the largest bass he has ever caught. This big fish inhaled the 1/8oz Speed Trap. The 2nd picture is a 5 1/2lb largemouth I caught off this same point break on the same bait. Another feature of the Speed Traps is their ability to make a sharp dive on your first few cranks. I truly believe that these baits get to their running depths quicker than any crankbait I have ever fished. This is perfect for fishing sloping points, tapered banks and deeper weedlines.
I also like the way that the Speed Trap will "Float" themselves back off of snags. Much of this is possible because of the wide lip that is attached to their intermediate sized body. (see picture below) There's one area in a favorite creek of mine that is "Hang City" with a crankbait. Many times it is also full of good quality fish that will hammer a fast moving bait which is beating and banging off the structure.
I fished this area with one of my favorite crankbaits on one rod and a Speed Trap on another. The Speed trap out performed the other bait hands down with it's ability to float back off the snags and allow you to fish the entire length back to the boat instead of disturbing the fish by going in to get free from the snag. Also several times as the Speed Trap floated back off the snag it created a reaction strike from a bass that was near by. We have covered the 1/16oz and 1/8oz Speed Trap but the lure also come in a 1/4oz size which will dive to 10 feet easily on 10lb test line. I haven't fished this bait yet since the fish are very shallow, but I have tossed it a couple times and can tell you that it digs straight down and has a deal of vibration and resistance. As fish move out to the mid-range drops I can see where this bait will be very effective.
Final Thoughts

Each of us have our favorite type lures that we depend on more than any other. Mine to no surprise is a crankbait. Since the early 1960's I have fished with many different crankbaits under many different circumstances. I have a whole
wall of them in my boat building that I no longer use because of some flaw in them. Maybe they wouldn't track right or the action just wasn't there. But every now a then a crankbait comes along that I know from the beginning that it's going to be a winner-something that will work for me on a consistent basis. The Luhr-Jensen Speed Trap is a winner. If you haven't tried them they are available locally in a variety of colors here in the Nashville area in the larger tackle stores. Buy one of each size and see how they work for you-I know you won't be disappointed.
Rick McFerrin Full Time Guide and Owner Of Tennessee Bass Guides Inc
---